Turkish language course in Delhi
 offers a thorough introduction to both spoken and written Turkish for beginners. It is appropriate for people who want to learn something elementary about the language to make the most of a trip to Turkey. It is also perfect for people who need a deeper understanding of the language to interact in various everyday contexts. We make no assumptions about prior language proficiency and, when feasible, keep clear of grammatical terminology. We define and explain such phrases in simple everyday English when they are unavoidable. You will graduate from this 
Turkish language course online
with a basic understanding of spoken and written Turkish. This course is entirely self-contained because it was created for self-tuition.
Turkish Language Classes Online Help You to Learn with Confidence
The four fundamental abilities of speaking, reading, writing and listening are covered in
Turkish language classes online
. It makes no difference if you are a total beginner, wants to get ready for a work trip or vacation, or don't have the time to attend multiple lessons; with this
Online Turkish course
, you may set your own pace for learning and develop into a fluent Turkish speaker. Therefore, if you decide after reading this description that this 
Online Turkish course
 is for you, sign up, enjoy studying, and after finishing the course, speak Turkish. There are numerous benefits to learning Turkish via our 
Online Turkish course
, but we'll highlight the one you might have yet to think of: the chance to converse with well-known Turks. Turkey has a few exceptional football players, which is not surprising considering the nation's passionate support for the game. One is Mesut Ozil, of Turkish heritage but currently represents the German National Team. Zil is well-known for representing prestigious teams like Real Madrid in Spain and Arsenal London in England. Arda Turan, the National Team Captain of Turkey and a prominent FC Barcelona Player, is another well-known Turkish football player.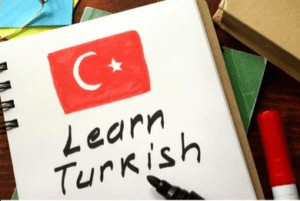 Learn Extremely Relevant Concepts in an Online Turkish Course
The most typical real-life scenarios that you might encounter have been recognized and chosen by our language experts. As a result, the 
Online Turkish course
 divides the learning process into manageable chunks and groups them according to relevant concepts. Please choose a subject that interests you, then spend time learning words and phrases associated with it until you master it. You can learn the basics of Turkish simply and enjoyably by practising topics like greetings, travelling around the city, purchasing a ticket, reserving a hotel room, and shopping. You will soon be able to hold a genuine conversation in Turkish.
Isn't It Wonderful to Hold a Genuine Discussion in the Comfort of Your Home?
To enable you to communicate intelligently with our Turkish teachers, that is precisely why we provide an 
Online Turkish course
. Enrol in an 
Online Turkish course
 to learn how to converse in Turkish, ask questions, and understand what is being said. Afraid of using the wrong word? Don't stress over it. Every time you make a mistake or encounter a pronunciation issue, one of our coaches will provide immediate feedback. You'll gain confidence in speaking Turkish daily and reach fluency with each discussion. By listening to sentences pronounced by our Turkish native speakers, you can acquire the proper Turkish pronunciations skills with a tailored
Online Turkish course
 that we have designed exclusively for the learners of all categories. We have collaborated with many native Turkish speakers from around the world to deliver a top-notch listening experience that is crucial for learning Turkish quickly. As a result, the next time you speak with any of the Turkish speakers, be prepared to receive comments and applauds on your excellent pronunciation and charming accent. With the help of our 
Turkish language course online
 for beginners, you may learn the language and receive credit for it. Learn Turkish and become familiar with Turkish culture and traditions. Learn how to communicate in and comprehend Turkish in typical situations by enrolling in our 
Online Turkish course
 to get the proficiency needed to speak Turkish. For more information regarding our
Turkish language classes online
, contact us, and we will be delighted to help you.